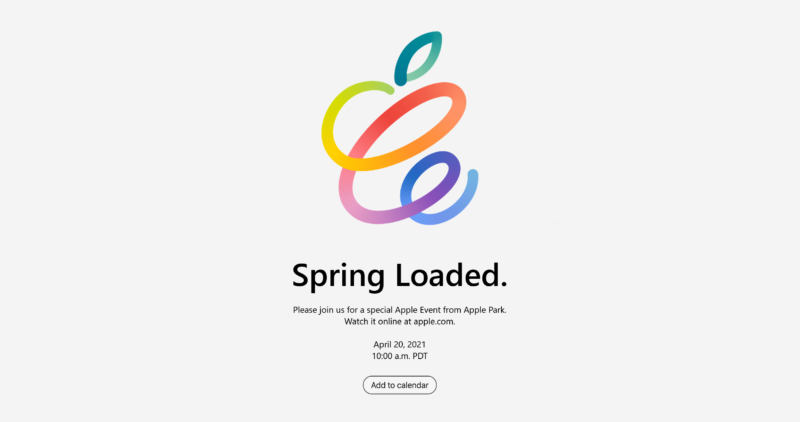 It might have taken longer than expected (the event has historically taken place in March), but Apple announced its spring product unveiling event this week. Executives from the company will take to the stage in a livestream from Apple's Cupertino headquarters, where they'll introduce and discuss new products that Apple plans to ship in the near future.
As has become the custom, we'll do our best to outline what you should or shouldn't expect in terms of announcements from the unveiling.
While each Apple event's accompanying graphic and name—this one is called "Spring Loaded," and you can see the graphic above—can sometimes (not always) act as a sort of teaser for what kind of announcements are to come, the name doesn't tell us much this time around. That said, the scribbled lines that make up the Apple logo above look like the work of an Apple Pencil, one of the key accessories for the iPad.
And indeed, all signs point toward this being an iPad-centric event. So let's start there.
iPad Pro
If there's one product we're relatively certain we're going to see on April 20, it's a new iPad Pro.
Rumor has it that the new iPad Pro will come in the same two sizes as before—11 and 12.9 inches—and that it won't have many, if any, visible design changes. So what will be new?
Well, for starters, the new tablets are sure to include a new system-on-a-chip from Apple that will include an updated CPU, GPU, Neural Engine, and so on. We don't know what it will be designated, though "A13X" seems like a strong possibility given past naming conventions. Reports say it will be similar in at least some ways to the M1 processor Apple put in low-end Macs last year, but we don't know exactly what that means yet.
In any case, the Pro is sure to offer improved performance for games and creative apps. We'll have to wait to see how big that performance bump is.
Below: Photos of the 2020 iPad Pro from our review. The new iPad Pro is expected to look similar.




Samuel Axon





Samuel Axon





Samuel Axon





Samuel Axon





Samuel Axon





Samuel Axon
Perhaps the bigger story is that the 12.9-inch iPad Pro (and not the 11-inch, apparently) will have a new display technology: Mini LED. It will still have an LCD screen, but this new approach will enable better contrast, among other improvements. Mini LED has already started shipping in high-end 4K TVs.
Supplies of Mini LED panels, however, may be limited, so the 12.9-inch model might be hard to get a hold of for a while if this rumor is true.
Apple may also choose to update the cameras in the iPad Pro, and a third-generation Apple Pencil accessory is not outside the realm of possibility. In fact, that's the only possible hint we can imagine coming from the event's name—there have been some rumors of spring-loaded components finding their way into future Pencil designs.
iPad mini
The iPad mini hasn't been updated in a while, and it shows. The design of the product is ancient at this point, with enormous bezels wasting a significant amount of the device's limited space instead of the better screen-to-body ratio seen in other recent iPads. The story is better with regards to the internals, but it's still worth noting that the A12 chip included in the device will be 3 years old this year.
Given that Apple has more recently updated the other iPads in the lineup, the iPad mini is the only non-Pro iPad we see as a possibility for this event. That said, we're not sure exactly what to expect from it.
Below: The current iPad mini, from our most recent review. Those are some chunky bezels by today's standards.




Samuel Axon





Samuel Axon





Samuel Axon





Samuel Axon





Samuel Axon





Samuel Axon





Samuel Axon
If Apple does update it, the mini will probably have a more recent chip—most likely the A14 we saw in last year's iPhone lineup. But what we're really hoping for is a redesign that increases the screen size without changing the actual footprint of the device.
It's also possible that Apple could add support for newer, better version of the Apple Pencil, as the current mini only supports the previous iteration.
Apple Silicon Macs
We believe this event will focus primarily on the iPad, but Apple did commit last summer to update its entire Mac product line to replace Intel's chips with Apple Silicon within two years from that date. We're coming up on one year in, and so far Apple has just updated the low-end configurations of the MacBook Air, MacBook Pro, and Mac mini.
Various reports have claimed that Apple plans to introduce higher-end MacBook Pro models and a new iMac this year, with the Mac Pro desktop tower getting an Apple Silicon refresh sometime in 2022. There's also talk of a redesigned MacBook Air, though that computer already got the M1 treatment last year.
Most of those reports have said that the MacBook Pro and Air are slated for the second half of the year, so if we see any new Mac at this event (that's definitely not a slam dunk, to be clear), it might be a new iMac.
Apple is believed to be working on a totally redesigned iMac with more screen real estate, a different body shape, Apple Silicon, and other improvements.
Below: The M1-equipped Mac mini from our review last year.




Samuel Axon





Samuel Axon





Samuel Axon
We're just speculating here, but it's possible Apple will do the same thing it did with the laptops last year: start with an M1-equipped lower-end iMac before bringing out a much faster high-end model with an "M1X"-type chip alongside the new MacBook Pro models later. But we don't know for sure.
It seems worth mentioning that Apple just discontinued the iMac Pro, which you might read as a hint that a big, high-end update for the standard iMac is right around the corner to take its place. But we're not totally confident in that reading, because the current specced-out standard Intel iMac already matches or beats the languishing iMac Pro.
Whatever form it takes, a new iMac might be accompanied by a new Apple-designed display that would offer some of the benefits of the professional studio-targeted Pro Display XDR but at a more consumer-friendly price point. Apple used to design and sell excellent consumer desktop monitors, but for the past few years, it has loosely partnered with LG, which makes Mac-focused monitors that are variants of the South Korean company's other products.
We don't know what a new Apple monitor would look like at this stage, but we're hoping it will be a triumphant return on that front.
HomePod or Apple TV successors
Apple may take this opportunity to refresh a couple of its less popular products, such as the HomePod or Apple TV.
HomePod
Until recently, Apple sold two HomePod products: the original, $300 HomePod, and a cheaper (just $99) HomePod mini. The former had an obsessive focus on audio quality, while the latter compromised that to bring the price down. The mini also tried to offer the smart speaker-type functionality people enjoy in Amazon's Echo devices but with Siri instead of Alexa.
Apple, however, discontinued the more expensive HomePod last month. Let's be clear: we don't expect Apple to directly replace that product at this event or any other in the near future.
Rather, there's a remote possibility the company will introduce a completely new kind of HomePod. A Bloomberg report citing people familiar with Apple's plans earlier this week described a HomePod with a touchscreen, which would compete with similar screen-equipped smart speakers from Apple's numerous competitors.
The report specifically described the device as a HomePod with a connected or built-in iPad; in fact, Apple has even explored attaching an iPad-like screen with a robotic arm that tracks you and stays pointing at you as you move around the space. This device would also have a microphone and camera to enable videoconferencing.
That said, the report seemed to indicate that this new product is not particularly close to release, so we'd be surprised to see it on April 20. It's possible, though.
Apple TV
Between a new HomePod and a new Apple TV, we think the latter is more likely.
The company's flagship set-top box, the Apple TV 4K, hasn't been updated in more than three years. Plus, some code found in the latest tvOS beta releases pointed toward a feature (120Hz refresh-rate support) that is not possible with current Apple TV 4K hardware. We're therefore expecting to see an updated Apple TV 4K sometime this year, though it's not a sure thing.
A new Apple TV 4K could include an HDMI 2.1 port that makes that 120Hz refresh rate possible, and it would likely include a much faster processor. That's because Apple has been pushing its Arcade gaming subscription service on the Apple TV—all Arcade developers are required to make their games support the device. But the aging A10X processor in the Apple TV 4K is inadequate to the task of running a lot of those games at the 4K target resolution.
Below: The Apple TV and Apple TV 4K, from our Apple TV 4K review. Both are getting long in the tooth.




Samuel Axon





Samuel Axon





Samuel Axon





Samuel Axon
We wouldn't be surprised to see whatever processor ends up in the iPad Pro in an Apple TV 4K successor or at least an A14 like that found in the iPhone 12. An A14 or later processor would bring the Apple TV 4K into something resembling last-generation (PlayStation 4, Xbox One, and Switch) gaming console territory, performance-wise.
It's also no secret that the Apple TV's remote has been divisive, so Apple might make some changes there, too.
Why not both, actually?
The aforementioned report about a new HomePod discussed another device Apple has apparently been exploring: a HomePod/Apple TV hybrid, likely similar in some respects to the Roku Streambar.
Such a device would combine a speaker (possibly in a soundbar shape), an Apple TV streaming box with tvOS and all the apps and games that go with it, and microphones in a camera to try to handle all of users' TV/movie streaming, home theater audio, living room gaming, videoconferencing, music, and smart assistant and smart home needs in one package.
As was the case with the other HomePod product discussed in the Bloomberg report, the report didn't read like this device is necessarily imminent, but it didn't say otherwise either. So we could see it on April 20. Don't hold your breath, though; we're guessing this one is still fairly early in development.
AirTags
We've written this same blurb about AirTags for every Apple event for a couple of years now, and yet the product never seems to materialize. So I'll keep this bit short.
We've known for a while now that Apple has been working on an iPhone-centric competitor to Tile, those geolocation tags you can attach to valuables to track and find if you lose them. Rumors have called them AirTags, and the concepts we've been exposed to rely on the U1 ultra-wideband chip Apple somewhat recently started adding to iPhones to serve up ultra-precise location data on your phone about nearby objects you're tracking.
Further, reports have said that some AirTags concepts have an augmented reality component; you could hold your phone or iPad up and see the location of the tags and whatever they're attached to in real-world space, placed in 3D space within the camera's image. Obviously, this would be even more useful if Apple's long-rumored augmented reality glasses hit the market, but that product seems to still be a ways away.
AirTags could make their debut at long last this event, but that remains far from certain.