UK bond yields soar as investors anticipate interest rate rise; China's growth slows – business live | Business
Britain's short-term cost of borrowing has surged to its highest level in nearly two and a half years, as the City prices in a UK interest rate rise soon.
The yield, or interest rate, on two-year UK gilts has jumped to its highest since May 2019 this morning.
Two-year gilt yields hit 0.75%, up from just 0.57% on Friday night.
Rising gilt yields are a sign that traders are expecting UK interest rates to rise soon, in an attempt to combat inflation.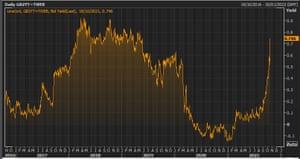 The yield on 10-year gilt yields have also risen (from 1.1% to 1.15%), close to the two and a half-year highs seen last week.
The moves comes after the governor of the Bank of England warned it will "have to act" to curb rising…