UK car sales recover as showrooms reopen; stock markets rebound – business live | Business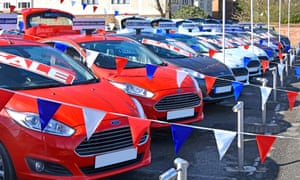 Good morning, and welcome to our rolling coverage of the world economy, the financial markets, the eurozone and business.
After a torrid 12 months, car sales in the UK are finally on the road to recovery.
Data due this morning will show that car sales jumped last month as dealers in England and Wales reopened their doors, following the easing of lockdown measures in mid-April which allowed non-essential shops to reopen.
Preliminary data from the Society of Motor Manufacturers and Traders are expected to show a 30-fold year-on-year increase in car sales for last month.
That's compared to the nadir of the first lockdown; sales plunged by 97% in April 2020 to just 4,321 new vehicles, the worst month…